"His bondage had softened him. Irresponsibility had weakened him. He had forgotten how to shift for himself. The night yawned about him." ―
Jack London,
White Fang
---
1. Weaponizing Democracy
When a supposed homily is out-of-place and suddenly starts to set a narrative of some shiny concepts, one should know that what is being profered is just a doctrinal rhetoric.
Democracy promotion is a tool of statecraft and regime change that we have talked about.
When the judiciary all of a sudden, without provocation or substantive reason starts on the very road that is being constructed by outside forces, then you start wondering about the strange coincidence.
2. Equality in access to justice?
There are lawyers, activists and lawyers who have gotten access to the highest court in India within minutes.  Based on their stature, relationship to judges and the "political leanings".  So when a senior advocate insisted on getting his case listed, and got shouted down by the Chief Justice of India who posed the advocates insistence as "an attack" on the judiciary, you are left with more questions....
.... is stratification of justice system a real thing?
3. India as an International Arbitration Hub
 In October 2016, Mumbai Centre for International Arbitration (MCIA) was set up as a new arbitral center in Mumbai - India's very first arbitration tribunal.  In the past five years, the Indian government has amended the Arbitration and Conciliation Act, 1996 ("Act") three times - in 2015, 2019, and 2021. This shows that the government is committed to promoting, supporting, and developing arbitration to be on par with international standards.
4. Supreme Court Vs CBI
The Apex court, through the Division Bench of Justice A.S. Bopanna and Justice Ahsanuddin Amanullah, held in the case of Royden Harold Buthello & Anr Vs State of Chhattisgarh & Ors that directing the Central Bureau of Investigation for investigation is not justified when the issue pertains to a matter of evidence. In this case, no issue of public importance existed that required further investigation by the CBI. Moreover, the Appellants have a legal remedy for loss of reputation, compensation, and other reliefs if they can prove malicious involvement and prosecution. As a result, the Court denied the request for directing CBI for further investigation.
5. Hindenburg Report Investigation - inbuilt "conflict of interest"
The choice of cases and the means used by the Indian judiciary recently is very interesting.
A short seller some weeks back brought out a shoddy and mischievous piece of crap.  That was used by many groups to short a company's shares.  The shares have since bounced back.  
But the Supreme Court wants to investigate the whole thing.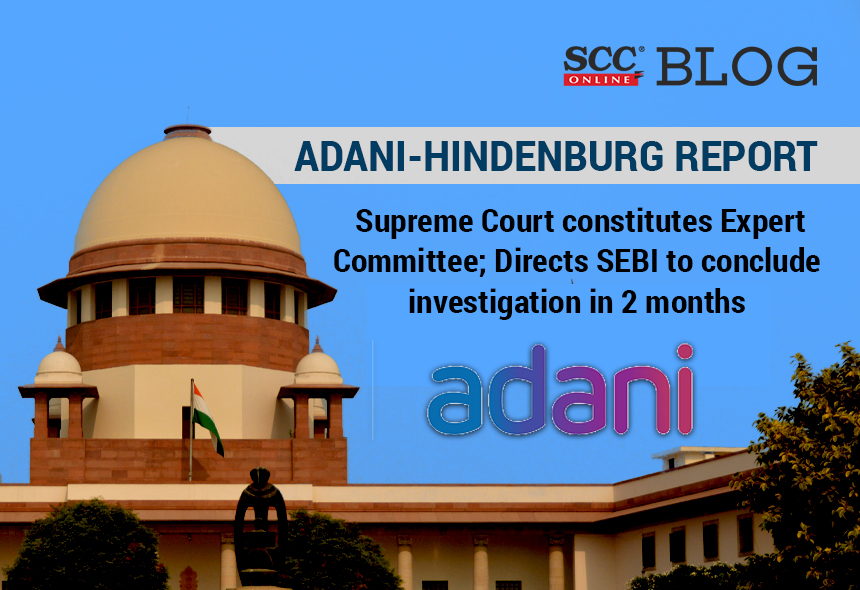 Interestingly, the panel members they choose have an obvious and substantial "conflict of interest".  The organizations that they are on the board of, are running campaign against Adanis.  The very group they have been hired to "investigate".
When conflict of interest is inbuilt in your committee, then it is not an investigation.  It is a sham.
There is no better way to put it.
---
If you like our content and value the work that we are doing, please do consider contributing to our expenses.  CHOOSE THE USD EQUIVALENT AMOUNT you are comfortable with.
---
If you like this post - please share it with someone who will appreciate the information shared in this edition.
Today's ONLINE PAPER: Check out today's "The Drishtikone Daily" edition. - THE DRISHTIKONE DAILY
Comments